Episode Guide | Character Guide | Video Guide | FAQs | Fun Stuff
The Amazing Colossal Pokémon Episode Guide, the biggest and bestest guide you will find to one of the longest running animated TV programs! This guide provides details of each episode that has aired, a character database and many questions answered in the FAQ (Frequently Asked Questions) section. So all you Pokémon fans out there, enjoy!
---
Latest News and Updates:
10.15.03 - *NEWS* Pokemon Heroes has been pushed back to next year. Updated release dates below.

9.24.03 - *NEWS* Next month, Cartoon Network will be running the first three Pokemon movies on Fridays and 8 pm

9.24.03 - *UPDATES* It's been a while... blame F-Zero. New box art and information on upcoming Johto League Champions DVD and VHS. Also, if you want to complete your collection of Pokemon DVDs, head on over to Yahoo! Shopping's Nehaflix, where they are having a sale on most Pokemon DVDs for only $5.99 each. Considering that the DVDs from the Indigo and first Johto series are still selling at most retailers for over twenty bucks, this is a steal. Better hurry, because they are selling out fast!

8.27.03 - *NEWS & UPDATES* Pokemon Pinball: Ruby and Sapphire has been released! If you enjoy pinball and Pokemon, this game was made for you! Me, I'm too busy playing F-Zero GX... Also... more release dates and box art added for Orange Islands 3 and Pokemon JLC #5.

8.11.03 - *UPDATES* I've been working on tinkering with the Indigo League guides, adding a new navigation bar and new sharper pictures to them. I plan on re-posting them all when they are all finished. But for now, I've added new pictures to existing Orange League Guides, and added guides for episodes 235, 236, 237, 238, & 239.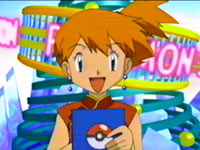 -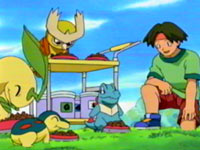 -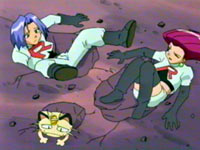 Upcoming US Releases*:
Pokemon e-Reader Battle Cards (GBA e-Reader) - October 20
Pokémon: Way to the Johto League Champion (DVD) - October 28
Pokémon Advanced Generation (Kids WB!) - November 1
Pokémon: Orange Island Adventures 3 (DVD) - November 18
Pokémon HVC: Tea'd Off (VHS) - November 25
Pokémon Channel (GCN) - December 1
Pokémon: Johto League Champion 6 (DVD) - December 2
Pokémon Heroes (DVD & VHS) - January 20, 2004
Pokemon Colosseum (GCN) - TBA 2004
Pokemon Box (GCN) - TBA 2004
Pokemon Fire Red and Ocean Blue (GBA) - TBA 2004
*As always, release dates are subject to change.

Current Kids WB! Schedule*:
Mondays through Fridays at 4:00 pm (Johto League & Master Quest reruns)
Saturdays at 10:00 am (New Master Quest)

Current Cartoon Network Schedule*:
Mondays through Thursdays at 7:00 am & 9:00 pm (Indigo & Orange League reruns)
Saturdays at 11:00 pm (Indigo and Orange League reruns)
*click to see episode airing schedule; check local listings; time may vary
---
This site is neither sponsored nor endorsed by Nintendo, Game Freak, Creatures or 4Kids Entertainment. Pokémon series ©1995-2003 Nintendo, The Pokémon Company, Game Freak, TV Tokyo and Pioneer Entertainment. Site design and original content is ©2003
Josh Nickerson Designs. This site best viewed using 600 x 800 screen resolution, using Microsoft Explorer.
Josh Nickerson, 23, is the webmaster of the Amazing Colossal
Pokémon Episode Guide. He became interested in Pokémon
when it was first featured as a "Japanese only" RPG in
Nintendo Power magazine. He has followed the games and
show closely over the years. He also enjoys playing many
other video games, as well as pursuing a career in Graphic
Design. He spends most of his time drawing comic strips,
which he hopes to one day unleash upon the world. And
guesses one of these days he'll actually FINISH this guide!
Questions or comments? Send 'em to pokemonepisodes AT hotmail.com
Site By: